Meet the President
Hello! My name is Doug Fry and I am honored to be the President of Christian Home Educators Fellowship (CHEF). My wife, Vikki, and I have been married for 35 years and we have been homeschooling for about 26 of those years. We have lived in Collinsville for almost 23 years on a small farm where we raise turkeys, chickens, and pigs at various times. We also raise a large garden each summer and attend a farmer's market in Tulsa where we sell our produce. I have worked at UPS for 36 years and Vikki is a stay at home mom/teacher. I am an elder at Springs of Grace Bible Church in Tulsa.
Vikki and I have been blessed with 14 children. Our oldest daughter, Adraina, is 34 years old and graduated with CHEF in 2000. She lives in Texas and is married to Tom Reagh. They have five beautiful children, our grandchildren, whom we do not get to see nearly as much of as we would like. Vanessa, 32, is our second oldest. Vanessa graduated with CHEF in 2002 and attended Oklahoma Wesleyan University and graduated Summa Cum Laude with a degree in Global Studies. She was in South Korea for three years teaching English and studying Korean at their university. She is now a Sergeant in the Army. Third is Erika, 29, who is married to Jamin Schweiger. They have three children, with #4 due January 2017. Erika graduated with CHEF in 2005 and attended Tulsa Community College where she graduated with a degree as a Physical Therapy Assistant. Hannah, 28, graduated with CHEF in 2008 and attended and graduated from Claremore Beauty College. Hannah married Lincoln Beard in a beautiful outdoor service in Sept. 2015. She is working at a daycare in Tulsa. Noah, 26, also graduated with CHEF in 2008. He attended The College of the Ozarks where he graduated Summa Cum Laude with a degree in Piano Performance. Noah and his wife, Brooke, have one son, with baby #2 due August 2016! Jonah, 23, graduated with CHEF in 2011. He is a Private in the Army station at Ft. Polk, LA. Hosanna, 21, graduated with CHEF in 2013. She graduated from Tulsa Technology Center in May 2016 with a degree in their Culinary Program and works at Sprouts. Our son Micah, 20, graduated with CHEF in 2015 and graduated from Tulsa Technology Center with a degree from their electrian program. He is currently working full time at Airco in Tulsa as an electrician apprentice. Judah is 18 and will graduate with CHEF in this 2016-17 school year. Then, there is Angelita (Angel), 16, Sophia, 15, Mirah, 13, Suzannah, 13, and Emma, 8 who are all currently still in school. All but one of our children have played basketball for CHEF throughout the years, and Judah, Angel, and Sophia are currently playing and carrying on the tradition!
Our four youngest children are adopted and all have special needs. Sophia, Mirah, and Emma were born with Down Syndrome, and Suzannah has Cerebral Palsy, a seizure disorder, and cortical visual impairment. Suzannah attends public school in Collinsville, due to her severe special needs and level of care. The rest of the girls are homeschooled along with the rest of the children and are doing very well. We are grateful to God for bringing all of these special little girls into our family. They are a blessing to us and help us to see the love of God for us in a unique way.
We joined CHEF around 1988 and have been members ever since. I joined the CHEF Board in 2002 as the Support Group Coordinator. I have also served as the CHEF Board Graduation liaison for the past 6 years. Vikki and I were the CHEF Track and Field Day Coordinators for 4 years, and our children have been very active in the CHEF Basketball program since 2000.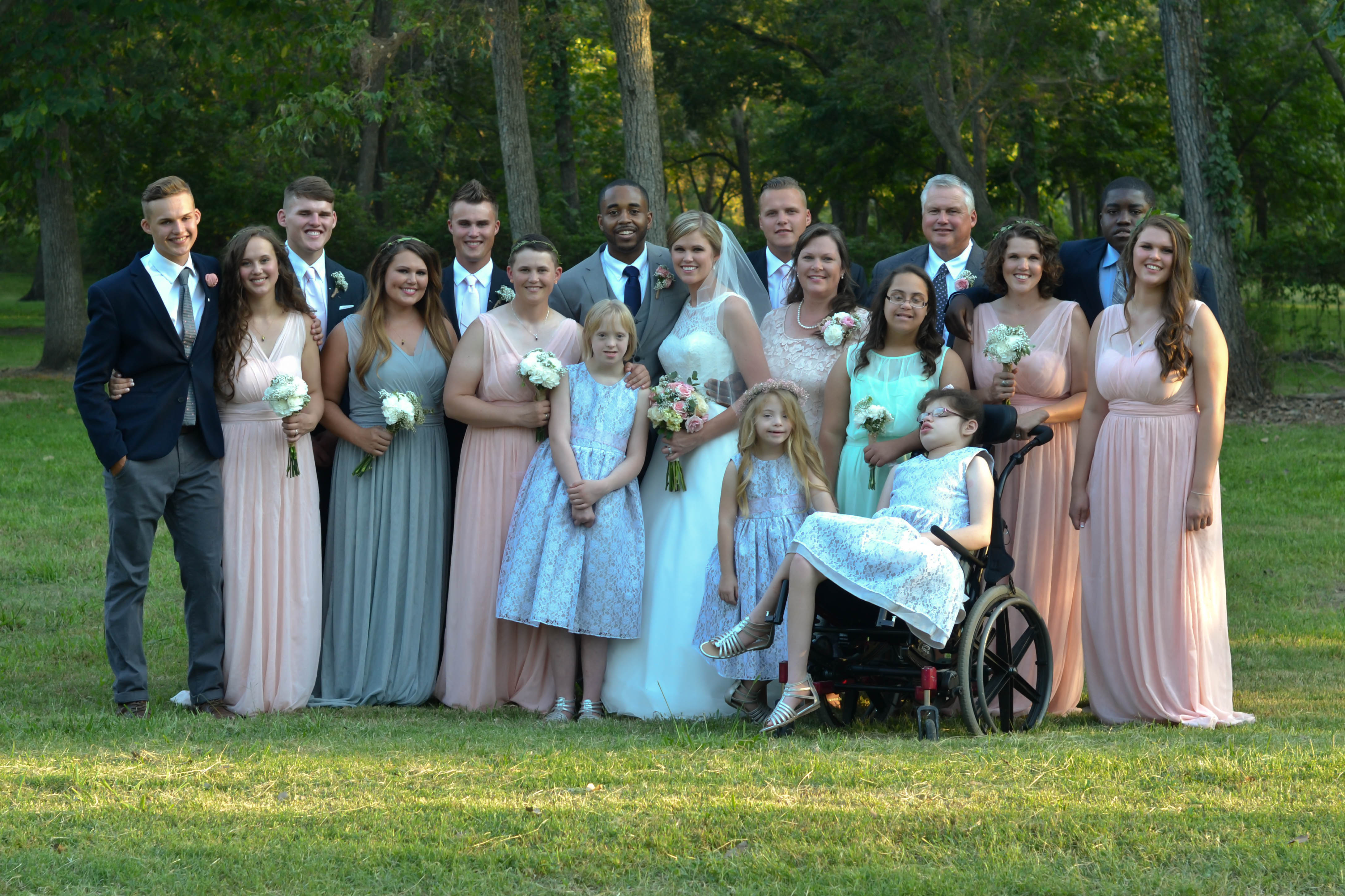 Fry Family 2015 at our daughter Hannah's wedding to Lincoln Beard!
(L to R men) Judah (17), Micah (19), Noah (25), SIL Lincoln, Jonah (23), Doug (dad), Demetrius (friend) (14)
(L to R ladies) Hosanna (21), Adriana (33), Vanessa (31), Mirah (12), Hannah (27), Emma (7), Vikki (mom), Sophia (14), Suzannah (wheelchair, 12), Erika (29), and Angel (15)